Sotogrande Spain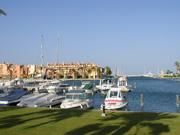 For an overview of what is available and coming soon to Sotogrande you must first of all view:- sotogrande
Sotogrande Marina 2 Bedroom 2 Bathroom Penthouse with its own private Jacuzzi on roof terrace and access to the buildings own private swimming pool.
A 5 Star Wow Location.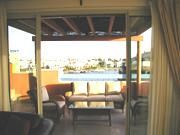 Sotogrande is located near the Straits of Gibraltar whose quiet beaches are only moments away. Today Sotogrande is known throughout the World for the most varied sporting facilities. Five of the most beautiful golf courses in Europe, Valderrama host to the 1997 Ryder Cup, The Club Real de Golf, Almenara, La Reserva, La Cañada and a Golf Academy; two world famous Polo fields; two Tennis Clubs; two Beach Clubs; a Bridge Club, Yacht Club, Sailing school, Health resort, Riding stables and a busy Marina, the first on entering the Mediterranean all make Sotogrande a Sportsman's paradise.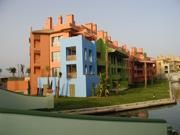 Sotogrande is easily the largest and most prestigious resort and residential development in southern Europe. With 4,500 acres stretching from the Mediterranean 30km east of Gibraltar, back to the Sierra Almenara foothills providing contrasting views of green fairways, cork trees and the sea.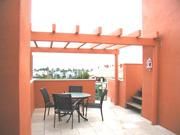 Sotogrande has something for everyone. For some it's a sport, sailing, golfing, tennis or polo paradise and for others it's a wonderful place to relax and enjoy the fabulous surroundings. Either way, it deserves a visit to see it for yourself!
Ribera de la Romana - NOW AVAILABLE
This superb 2 Bedroom 2 Bathroom Penthouse apartment is beautifully furnished and an ideal holiday property in a fantastic location. The resort enjoys the all year round sunshine of the Costa Del Sol.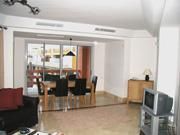 The apartment is equipped to a high standard with Sky TV, a fully fitted kitchen including dishwasher, washer-dryer, large Fridge and microwave, air-con/central heating and Jacuzzi bath in the main bathroom. The bedrooms have fitted wardrobes. There is a safe in the main bedroom for your valuables. To keep the car cool the apartment has a dedicated underground parking space.
The terrace areas are large, spacious and private and enjoy spectacular sea/coastal and lagoon views, with a Jacuzzi ideally situated on the top terrace and a gas barbeque on the lower terrace.
Please see next page for our tariff & booking details